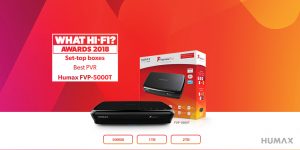 Freeview Play is a hugely popular TV platform that can be found on set-top boxes, TVs and mobile devices throughout the UK. We've compiled some fascinating facts and figures about one of the nation's best-loved TV services.
Freeview was launched in 2002, and a whopping 18 million households now use a Freeview TV.
Sales of Freeview Play devices – including HUMAX Freeview Play Smart TV Set-Top Boxes – passed the 5 million mark in January 2019. An extraordinary number!
The Freeview platform has grown from 30 channels to more than 100 channels since it started.
Freeview Play provides 70 SD TV channels, 15 HD TV channels and up to 25 radio stations (depending on local coverage). In addition to these live sources, it delivers catch up and on-demand content from BBC iPlayer, ITV Hub, All 4, Demand 5, UKTV Play, CBS Catch Up Channels UK and Horror Bites.
Freeview Play delivers 95% of the nation's most-watched TV content completely free of charge, without any subscription fees.
On average, viewers can save over £400 per year by switching to Freeview Play from a subscription-based TV service.*
You can find out the channels available to you in your area with the Freeview 'Build Your Perfect TV Package' tool: https://www.freeview.co.uk/package-builder
You can now also access live and on-demand content from Freeview on the move on a mobile device via the dedicated Freeview App, which was launched in January 2019.
The three most-watched TV shows on Freeview during 2018 were I'm a Celebrity, Bodyguard and Strictly Come Dancing. Were you watching?
100% of the biggest sporting events of the last five years were shown on channels provided by Freeview Play. This includes the FIFA World Cup, the Olympics, UEFA Euros and the Rugby World Cup. Freeview also offers a multitude of other sports with content from Freesports and the EFL highlights on Quest.
You can watch a host of paid streamed content via the Freeview Play platform, including the ever-growing Netflix and similar services. You just need an Internet connection and a subscription to these services.
Freeview Play is futureproofed! Freeview Play includes support for the most up-to-date file formats including 4K.
If you have any questions about HUMAX Freeview Play devices, please call our experts at the HUMAX Customer Service Centre on 0344 318 8800. Our full details can be found here. We look forward to hearing from you!
Buy Humax Freeview Play
*Source: Freeview, April 2019.