HB-1100S

Freesat HD TV Satellite Receiver
Smart Zapper box with built in Wi-Fi and the award winning smart TV guide
This compact Humax HD TV Receiver gives you everything you need to be in control of your TV viewing. Connect to your home network and satellite dish for the best in subscription Free TV, Catch Up TV and Video on demand services.
Subscription Free UK Satellite TV Service
With Freesat from Humax you'll be amazed what you've been missing. The built in 7day roll back on screen guide shows it all, and even lets you catch up.
Want a fantastic choice in TV, without paying a penny in subscription?
Well, use an installed satellite dish or have one installed-then with our Freesat HB-1100S you can tune in to over 200+ digital channels. And it gets even better, because you can watch up to 13 in stunning high definition (HD) Picture Quality.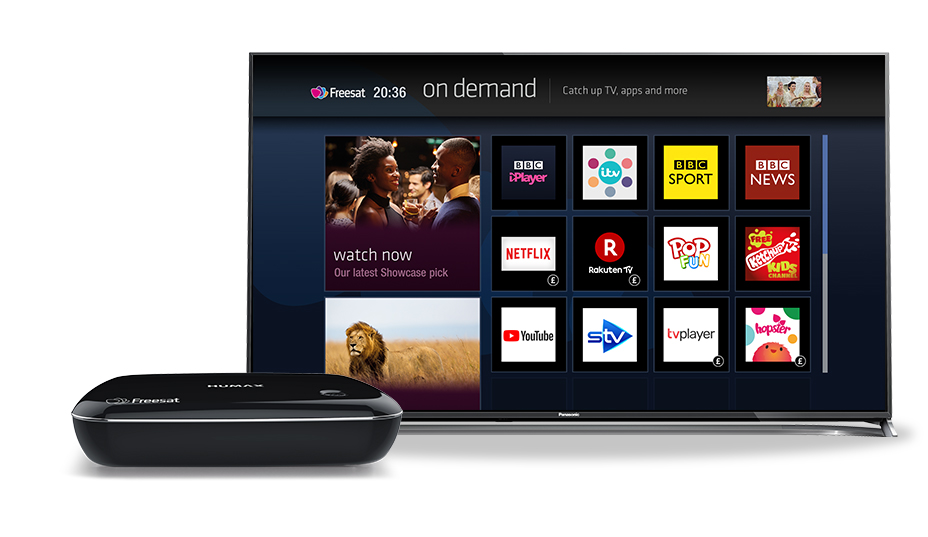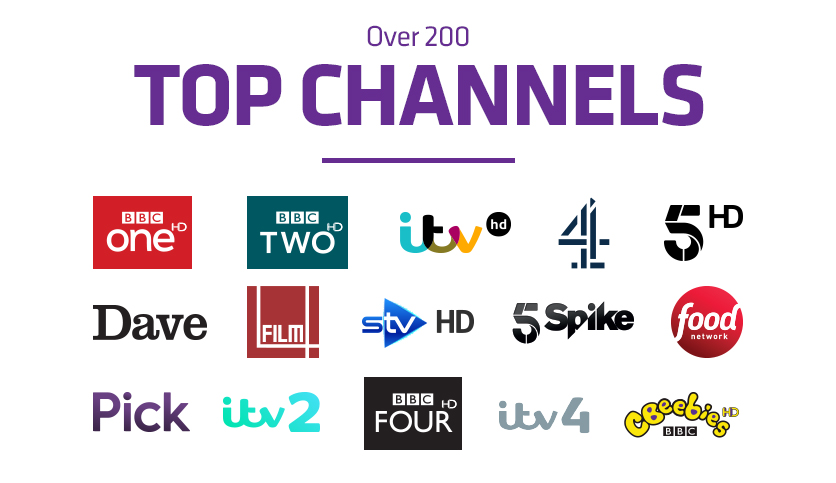 Access Over 200+ Great TV and Radio channels
Watch and listen to 200+ Digital TV and Radio Channels at the touch of a button bringing you the best drama, sport, news, children's shows, music and entertainment, with 13 in high definition.
Access Over 200+ Great TV and Radio channels
Watch and listen to 200+ Digital TV and Radio Channels at the touch of a button bringing you the best drama, sport, news, children's shows, music and entertainment, with 13 in high definition.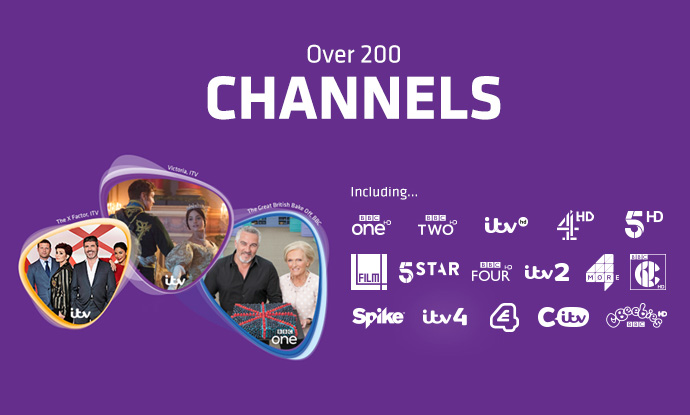 Catch up on TV from the last seven days
Catch up on the last 7 days of TV across 26 channels with the Award winning Freesat roll back TV guide and never miss a show.
You can all also view what's coming up with now and next or plan your recordings a week in advance.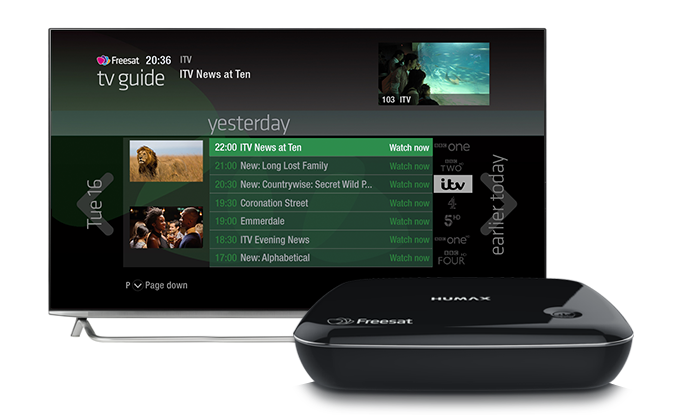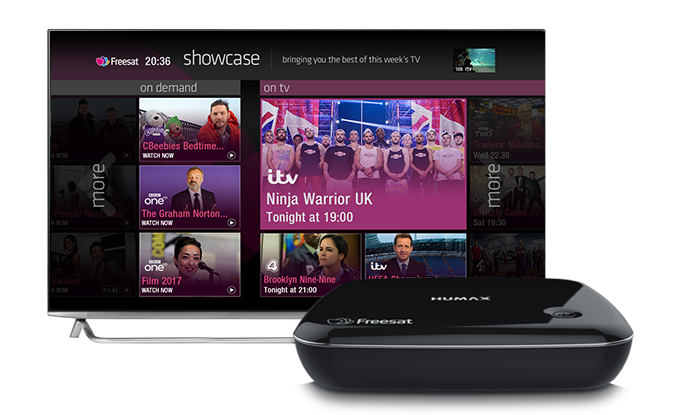 Showcase Top TV recommended by Freesat telly experts
The unique Showcase section of the Freesat on-screen guide brings you daily Top TV picks to watch, and what not to miss in the next few days, plus what's available now and On Demand. By regularly visiting Showcase you will always be informed of what is best to watch.
Optional Recording Ability
By purchasing a plug in hard drive recorder you can not only view the free to air satellite broadcasts you can save them to view again later.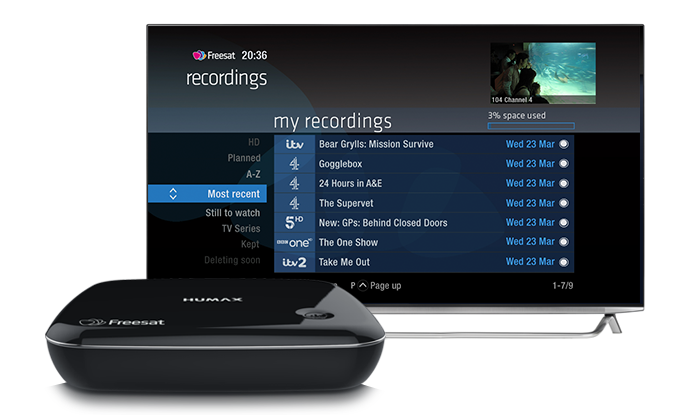 Home Networking
The HB-1100S offers exciting multimedia and home networking capabilities when connected to the internet via the Ethernet, making it the heart of any home.
Play media content including photos, videos and MP3s directly onto your TV using a memory device connected to the USB port, or connect it to PCs or laptops around the home through your home router, using the Ethernet port.
Your friends and family will be able to see your holiday moments on the big screen without having to crowd around your digital camera.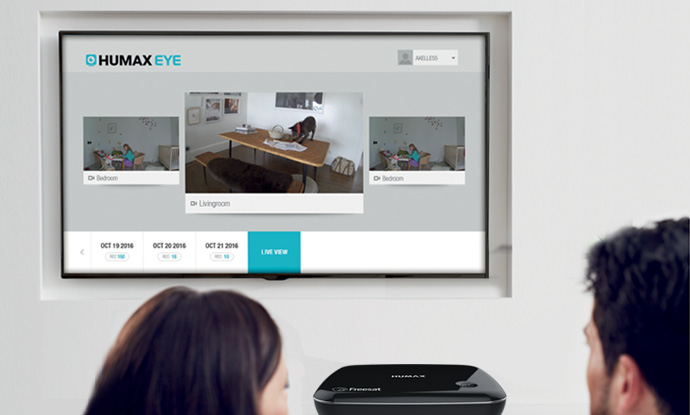 Humax Eye IP Camera compatibility
Watch recordings from your Humax Eye IP Cloud camera from the comfort of your own sofa with the built in Humax Eye app.
View Humax Eye
Easy Set Up –With Built-in Wi-Fi
Once you've removed the HB-1100S from its box, set up is quick and very easy. Every box comes with an HDMI cable for perfect digital transmission of HD pictures and sound to your TV and built in Wi-Fi will easily to connect to your router. Nothing too technical, no expert help needed. It's something you can easily do yourself.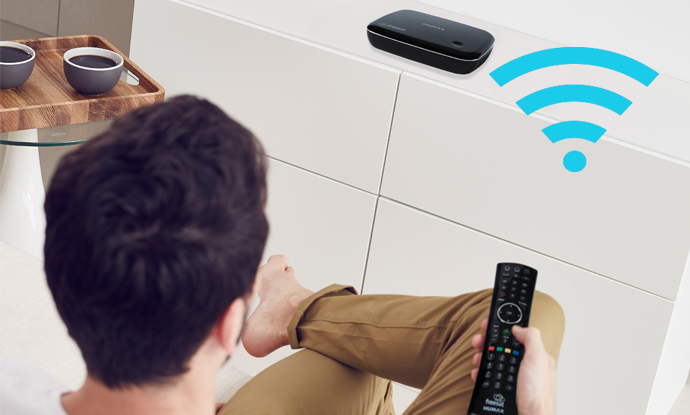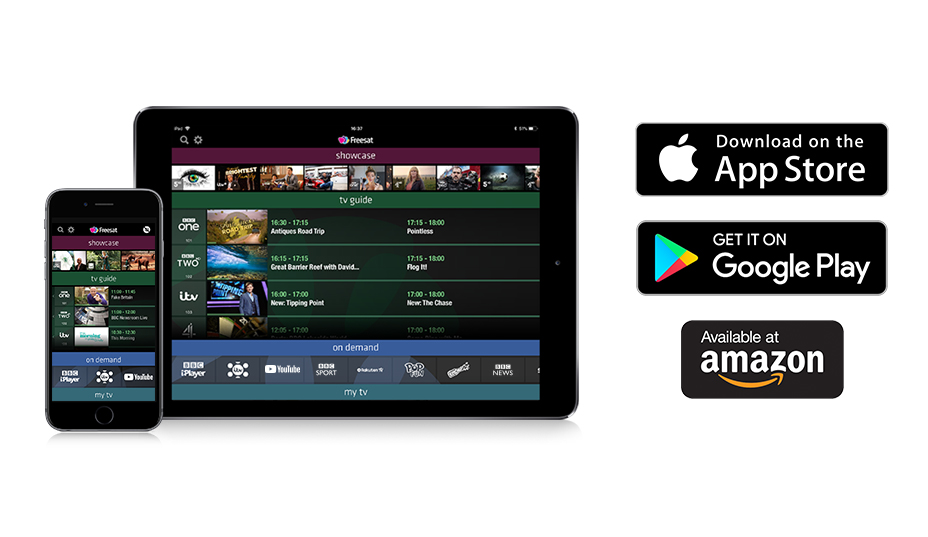 Control Your Viewing –Home and Away
Download for free the Freesat app. It's easy to use and lets you do all sorts of magical things. From setting recordings on your Humax box (separate hard drive required with HB-1100S, not supplied),when you're out and about to turning your smartphone or tablet into a remote control.
* The Freesat App for iOS : Available for iPhone, iPad or iPod Touch with iOS 6.0 or higher.
* The Freesat App for Android : Available for Android devices running Android 4.0.3 and above
* The Freesat App for Fire : Available for selected Fire devices running Android 4 and above.
TECH SPECS
Features

Freeview
-
Freesat
Freesat
YouView
-
Forward EPG
8 Days
Backward EPG
7 days
Recording Hours
With additional plug in HDD
Pause, Record and Rewind Live TV
No
Maximum Simultaneous Recording Limits
1 Rec via external HDD
Live Streaming
No
Remote Record
-
Remote Control App
-
On-Demand
BBC iPlayer, ITV Player, Demand 5, STV Player, BBC Sport, BBC News, YouTube, Netflix, Wakui, Hopster

Power Supply

Power type
External adaptor
Power Consumption
Max. 24W (Standby: under 0.5W)
Input Voltage
AC 100-240,50/60Hz
Protection
Separate internal fuse & lightning protection

System Resource

Flash
4Gb (512MB SLC)
RAM
DDR3 1GB (512MB*2EA)
HDD
No (1 Tuner PVR Ready via USB)

Video/Audio Processing

Video Decoder
ISO/IEC 13818-2 MPEG-2 MP@ML (maximum bitrate of 15Mbps)
MPEG-4 (Part 10)/AVC
Picture Decoder
MPEG2 I-Frame, JPEG, JPEG2000, BMP, GIF, PNG
Output Resolution
576i, 576p, 720p and 1080i/1080p
Graphics
32bpp with 256 alpha blending
1280 x 720 resolution for Native UI & Web Page
3 layers ( GUI / Subtitle & Teletext / Web Page)

Audio Mode

Audio Mode
Single/ Dual/Mono/ Stereo/Joint Stereo
Audio Decoder
ISO/IEC 11172-3 MPEG–1 Layer encoded audio
Dolby
Digital Plus/Pulse

Front Panel

VFD Display
N/A
LED Display
1EA(Dual)
- Red in Standby, Green in Operation, Off when power disconnected
Buttons
Power
USB Port
Yes

Front End (Tuner/Demodulator)

Demodulation
QPSK, 8PSK
Input Connector
F-Type, IEC 169-24, Female X 1
Loop Connector
N/A
Frequency Range
950MHz to 2150MHz
Signal Level
-25dBm to -75dBm

I/O Specification

Tuner
1x SAT input
TV Scart
No
RCA Out
1 x CVBS/L/R
HDMI Out
1 x HDMI 1.4 with HDCP
S/PDIF Out
1 x Optical
USB
1 x USB 2.0 (Rear)
Ethernet
1 x Fast Ethernet 100BaseT (RJ45)
Wi-Fi
Yes - Built-in
CI/CI+
N/A

Accessories

Quick Start Guide
Yes
User Manual
Yes (Available online)
Remote Control
Yes
Batteries
2 x AAA
Scart Cable
No
HDMI Cable
Yes (1.5m)
Ethernet Cable
Yes (2m)
RF Cable
-

Physical Specification

Size (W x H x D) mm
206 x 42 x 168.5
Weight
446g
Gift box dimensions
310 x 245 x 78
Gift box weight kg
1.112 kg (1 STB per 1 Gift Box)
LINK TO THE USER MANUAL FOR THE HB-1100S:
LED INDICATORS
Red Light – Device is in Standby mode
Green Light – Device is in operation
CAN I CONNECT THIS DEVICE TO MY SKY EQUIPMENT?
If you are a Sky+ customer you will be able to connect this device to the satellite dish installed by Sky. Unfortunately, this product is not compatible with the equipment installed for Sky Q.
CAN I RECORD ON THIS DEVICE?
This device does not come with any internal storage as it is only a receiver but you can attach an external HDD to the use to act as internal storage if it meets the below specifications:
USB 2.0
Externally Powered
Between 80GB – 1TB
Please note recordings made on the external HDD can only be viewed on this specific unit, you will not be able to view the recordings on any alternative devices.
HOW DO I CONNECT MY DEVICE TO MY WIRELESS NETWORK?
Please follow the steps below to connect the HB-1100s to your WiFi network:
Press the Home button on the remote and select Settings
Select Network Connections
Select Connect Automatically – You should then see a list of local WiFi networks
Select your network and using the on-screen keyboard input your password and select Continue
HB-1100s NOT RESPONDING TO THE REMOTE
At the top of your remote you will see two buttons labelled as TV & STB, please press the STB button and then attempt to control the HB-1100s.
PROGRAMMING THE REMOTE TO CONTROL YOUR TELEVISION
Your Freesat remote control can be programmed to control your TV as well as your HB-1100s. You will need to obtain the pairing code from the back of the user manual supplied with your device, once you have this code please follow the below steps:
Press and hold the TV button on your remote, it will come on solid red
Enter the 3-digit code
If this is the correct code, your TV will switch to standby
Programming is now complete
Once the programming is complete you will need to switch between STB & TV using the respective buttons depending on which device you are attempting to control.
DIFFERENCE IN VOLUME WHEN CHANGING CHANNELS
If you are switching between channels and notice SD is louder than HD or vice versa making the below adjustment should fix the issue:
Press Home
Select Settings
Select Picture & Audio
Ensure the Digital Audio Output to Stereo
CHANNEL 4 HD / ALL 4 ON DEMAND MISSING
Unfortunately, on the 22nd of February 2018 Channel 4 made the decision to remove the Channel 4 HD and All4 On Demand services from the Freesat service. For more information please contact Freesat or Channel 4 directly.
MORE ON USING THE GUIDE
The default option for the guide will always list both SD and HD channels, you can press the List button to look at specific genres within the EPG.
You can use the fast-forward and rewind buttons to go forward or back by 24 hours. The EPG can go up to 7 days ahead.
You can use the Search button on the remote to enable you to search programmes both on live TV and On Demand.
You're able to use the left directional button to go backwards on certain channels to catch up on content you've missed – a broadband connection is required for this.
HOW TO RETUNE YOUR HB-1100S
If there are any channel changes to the Freesat service your device will normally automatically update to reflect the changes, though if this has not happened for any reason you can follow the below steps to re-tune:
Press the Home button on your Remote and select Settings
Access Page 2 and select Freesat Channels (three right directional arrow presses when in Settings)
Select Channel Search
Follow the On-Screen prompts until your satellite cables have been detected and postcode verified
Save the results
CREATING AND ACCESSING YOUR FAVORITES CHANNEL LIST
To create your Favorites channel list you will need to follow the steps below:
Press the Home button and select Settings
Access Page 2 and select Freesat Channels (three right directional arrow presses when in Settings)
Select Favorite channels followed by Edit favorite channels
Select Channels you wish to add and press Back to save
When you would like to view your Favorite channels, Open the EPG using the TV Guide button, press the List button and Select Favorites
SOFTWARE UPDATES
Software updates for the HB-1100s are done automatically via your satellite connection.
HOW DO I CHECK MY DEVICE IS OPERATING ON THE LATEST SOFTWARE?
Please follow these steps to check your current software version