HDR-2000T Freeview HD TV Recorder

Best Freeview Box
Enjoy all the free to air HD TV channels via Freeview Play Service.
Buy from Currys
The Humax HDR-2000T is a Personal Video Recorder, bursting with recording, multimedia, home-networking and on-demand services for the ultimate subscription-free TV experience. Simply plug the HDR-2000T into your HD-ready TV to enjoy up to 15 HD channels, as well as access to up to 55 Freeview standard definition TV channels and 25 radio channels. Minimum of 3 mbps are required for catch up TV and video on demand.
Record, pause and rewind live TV
This clever machine brings you a whole new way to watch TV, with its easy to use remote control and on screen TV guide giving you total control over how you watch TV.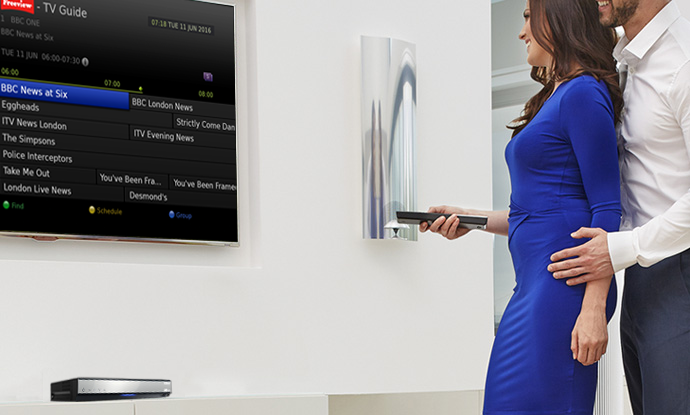 Recording Flexibility
With the HDR-2000T 500 GB you can record up to 300 hours of standard definition (SD) TV programmes or up to 125 hours of high definition (HD) TV, which can be selected from an easy to view electronic programme guide (EPG).

On Demand TV
Through the Humax TV Portal you can directly access BBC iPlayer to catch up on those programmes that you might have missed. Looking for additional entertainment then listen to internet radio, additional apps are also available to enhance your viewing pleasure.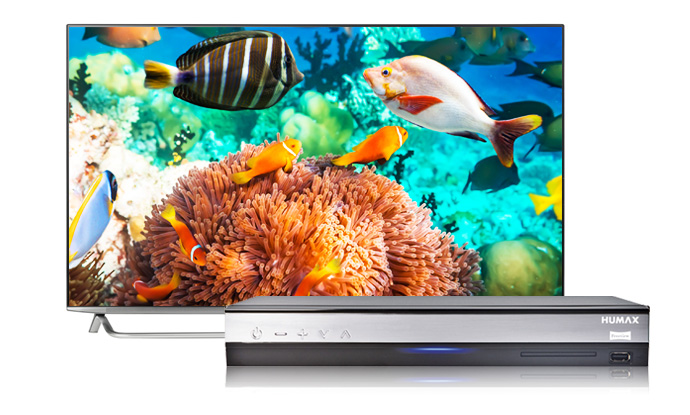 High Quality Sound and Vision
The Humax Freeview box has the ability to show pictures in full high definition (HD) quality for stunning colour and sharpness. On demand and Catch up programmes are also available in HD but these 1080p images will need a HD compatible TV to view them in all their glory. Audio output is highlighted by Dolby Digital Plus and Pulse sound, so you get the purest and cleanest cinema sound in your living room.
Home Networking
The HDR-2000T offers exciting multimedia and home networking capabilities when connected to the internet via the Ethernet, making it the hub of any home. Play media content including photos, videos and MP3s directly onto your TV using a memory device in the USB port, or connect it to PCs or laptops around the home through your home router, using the Ethernet port. Your friends and family will be able to see your holiday moments on the big screen without having to crowd around your digital camera. Share your recorded programmes from the HDR-2000T with other compatible devices around the home via your home network. If you don't like wires or your router is in another room you can connect your HDR-2000T wirelessly with the optional USB Wi-Fi dongle (WLAN Stick).
Remote Control App
Download the Free Humax Remote Control App to your phone or tablet and pair with your box for in home recordings and content management.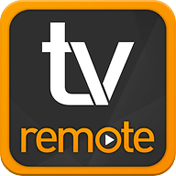 Easy Set Up
Once you've removed the HDR-2000T from its box, set up is quick and very easy. Every box comes with an HDMI cable for perfect digital transmission of HD pictures and Ethernet cable to connect to your router. Alternatively you can purchase the optional WLAN stick a Wi-Fi USB for wireless connection to your broadband router. Nothing too technical, no expert help needed. It's something you can easily do yourself.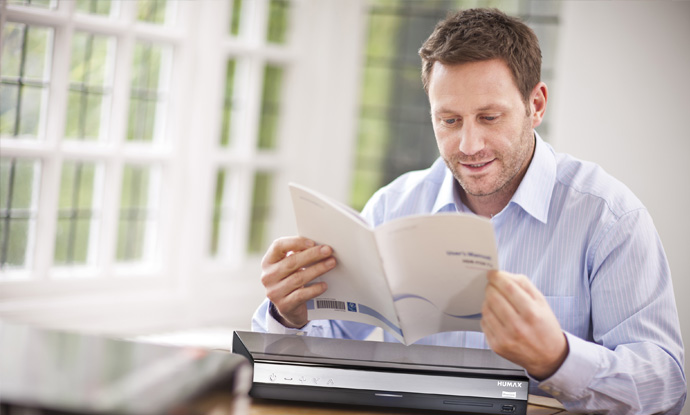 Peace of Mind
With so much choice on TV and catch up channels, you may want to restrict some viewing options for younger members of your family. This can be achieved by accessing the parental control function in the settings menu.
All Humax products come with a full 12 month parts and labour warranty which can be extended by another year by registering your purchase details within the box or on line at: //uk.humaxdigital.com/warranty-registration/
Do remember to keep your original receipts for proof of purchase.
For further information please contact Humax Customer Support
(Email: uksupport@humax-digital.co.uk / Tel: 0344 318 880)
TECH SPECS
| | |
| --- | --- |
| Features | |
| Freeview | Freeview+HD |
| Freesat | - |
| YouView | - |
| Forward EPG | 8 Day |
| Backward EPG | - |
| Recording Hours | Up to 300 Hours SD 125 Hours HD |
| Pause, Record and Rewind Live TV | Yes |
| Maximum Simultaneous Recording Limits | 2 Rec |
| Live Streaming | - |
| Remote Record | - |
| Remote Control App | - |
| On-Demand | BBC iPlayer |
| Operation System | |
| Power Supply | |
| Power type | External adaptor |
| Power Consumption | Under 13w |
| Input Voltage | AC 90-250V, 50/60Hz |
| Protection | Separate internal fuse & lightning protection |
| System Resource | |
| Flash | NAND Flash 128MB |
| RAM | DRAM DDR3 512MB (128*4) |
| HDD | 500GB / 1TB |
| Video/Audio Processing | |
| Video Decoder | MPEG2 (HP@HL), H.264 (HP@L4.1), WMV |
| Picture Decoder | MPEG2 I-Frame, JPEG, JPEG2000, BMP, GIF, PNG |
| Output Resolution | 576i, 576p, 720p, 1080i, 1080p |
| Graphics | 32bpp with 256 alpha blending 1280 x 720 resolution for native UI &web page 3 layers (GUI/Subtitle & Teletext/web page) |
| Audio Mode | |
| Audio Mode | Single/ Dual/ Mono/ Stereo/ Joint Stereo |
| Audio Decoder | MPEG1 LAYER, AAC and HE-AAC |
| Dolby | Dolby Digital Plus |
| Front Panel | |
| VFD Display | - |
| LED Display | 2 colour (red in recording, blue operation, red in standby) |
| Buttons | 5 keys (power, Vol+/-, Ch+-) |
| USB Port | Yes |
| Front End (Tuner/Demodulator) | |
| Demodulation | DVB-T2 (OFDM) |
| Input Connector | IEC 169-2 femail (RF) |
| Loop Connector | IEC 169-2, male(RF) |
| Frequency Range | 470MHz to 862MHz (UHF) |
| Signal Level | -10 to -70 dBmV |
| I/O Specification | |
| Tuner | IEC 169-2, Female/Male |
| TV Scart | 1 x TV SCART |
| RCA Out | 1 x CVBS/L/R |
| HDMI Out | 1 x HDMI 1.4a with HDCP |
| S/PDIF Out | 1 x Optical |
| USB | 2 x USB 2.0 (1 x Front, 1 x Rear) |
| Ethernet | 1 x 100BaseT (RJ45 with link LED) |
| Wi-Fi | Via USB Dongle |
| CI/CI+ | No |
| Accessories | |
| Quick Start Guide | Yes |
| User Manual | Yes |
| Remote Control | Yes |
| Batteries | 2 x AAA |
| Scart Cable | No |
| HDMI Cable | Yes (1.5m) |
| Ethernet Cable | Yes (1.5m) |
| RF Cable | - |
| Physical Specification | |
| Size (W x H x D) mm | 320 x 50 x 245 |
| Weight | 1.83kg |
| Gift box dimensions | 380 x 355 x 108 |
| Gift box weight kg | 3kg |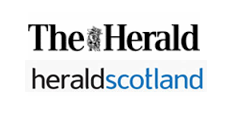 The Herald
• "It starts up quickly - several times faster. Next, the on-screen menus are simpler and more responsive, with straightforward buttons on the remote to skip between functions.
• "The electronic programme guide works well, allowing a series to be recorded at the touch of a button…"
• "Picture quality is excellent, both on HD channels and on standard definition, where the box does a good job of upscaling the picture to high-def over an HDMI cable."
• There's a great media player app that automatically finds photos and videos on other computers within a home network... The box does the same trick with USB memory sticks and external hard drives, making it a versatile media hub
http://www.heraldscotland.com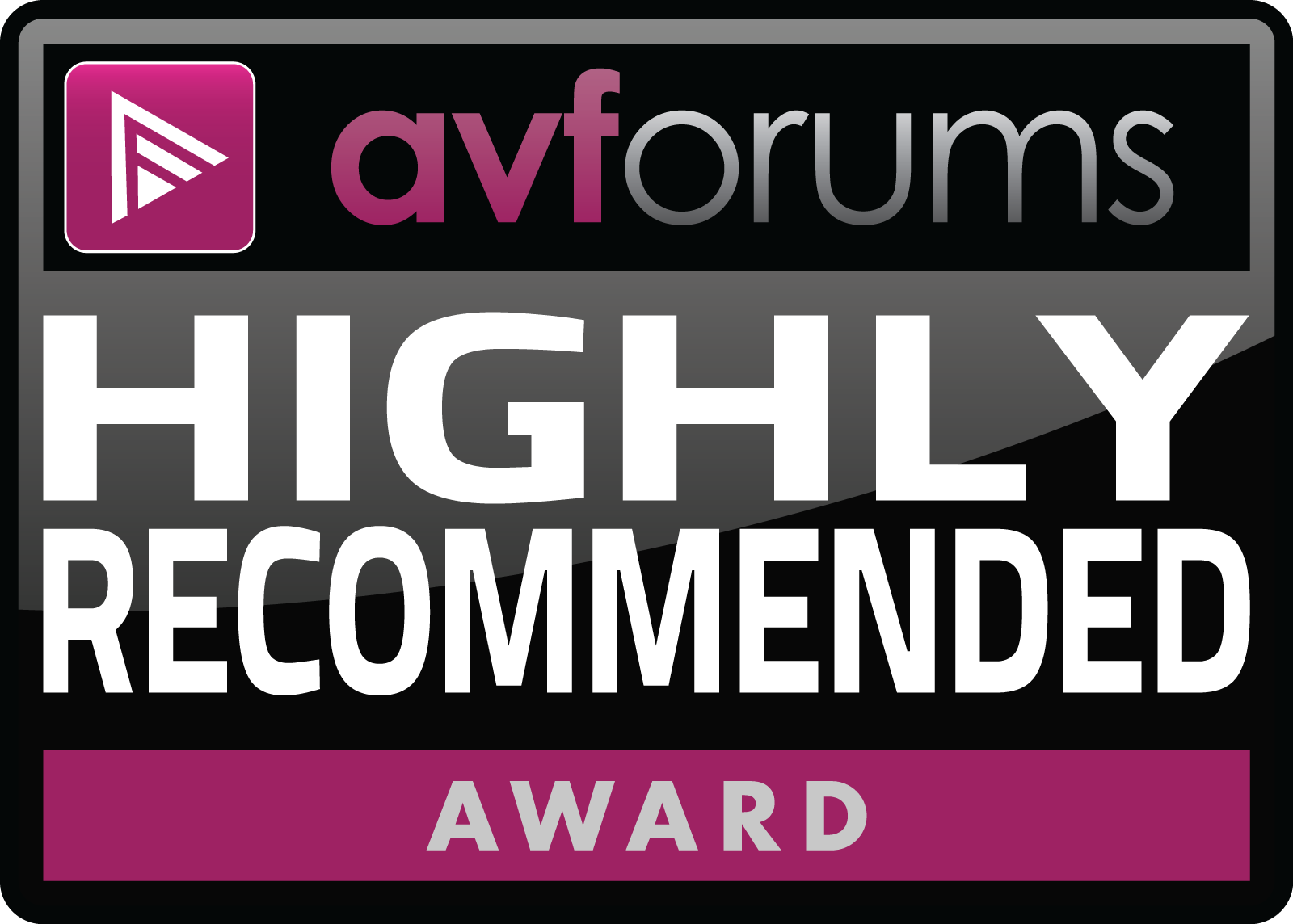 avforums
• "Menus are well planned and easy to navigate"
• "This is the first Freeview HD PVR to provide access to their new App store. For an emerging platform the range of apps and services is not bad and includes BBC iPlayer, YouTube, Wikipedia and Twitter amongst the highlights"
• "And what an excellent PVR it is."
• "All in all, the HDR-2000T stands up as proof that Humax has been producing quality Freeview recorders for years and it's a device that will keep experienced users just as happy as first-time PVR buyers"

http://www.avforums.com